Corona Investigative Committee, 136th Session on December 30th, 2022
Dr. Sin Hang Lee, MD
Director, Milford Molecular Diagnostics Laboratory.
(Original language: English)
[Transcript from Team corona-ausschuss-info.com + Ed]
---
Viviane Fischer: [01:53:15]
Now we want to welcome the next Chinese guest, Dr. Sin Hang Lee, and I speak in English continuing. Great that you're there. He's a pathologist, a Director of the Milford Molecular Diagnostics Laboratory. And he's focusing there on sequencing diagnostics of human papilloma virus and other sexually transmitted diseases, Lyme disease and SARS-CoV-2 infection. And he actually is from Wuhan, or not from Wuhan, but he graduated in 1956 from the Wuhan Medical College in China. So he has sort of some first-hand experience, at least, with that city, and also with a lot of the testing and… other aspects of the… infections that we are now dealing with. So what is your take on the situation currently in… China?
Sin Hang Lee. MD:
Thank you for inviting me to express my opinion here. But it's very difficult to understand what the Chinese are doing. It's just like the Chinese, we try to understand the elephant, yeah? Just to feel the legs of the elepphant, or tail of the elephant, but you'll never see the entire elephant.
So it's… the complications in the Chinese decision. It's complex, mixed with politics, power and money. And sometimes, one factor is more important than the other. So I would try to concentrate on the science, based on evidence. Because it's very difficult to _guess_ what the power in China wanted to do. It's very hard to say it.
[01:55:20]
So the important thing in China in the… current situation– if we wanted to study it, we got to go back through history, 2003. OK. And, let me see, … When we look back to 2003, SARS-CoViD-1. At a time– the first case of SARS-1 was transmitted from Guangzhou to Hong Kong. A medical professor brought the virus to Hong Kong and the medical professior actually died.
And at the time, the outbreak of covid-1 led to only a little bit more than 8000 reported cases worldwide, and 774 deaths. with a case fatality
of 9.7 percent. And actually, the outbreak was ended before a vaccine was ready for marketing, and before a variant of concern would develop.
So at a time… so I think scientifically there was a difference, big difference, between the two outbreaks, one in 2003, one in 2020. And in 2003, the diagnosis of SARS was very accurate. I'm a surgical pathologist. My specialty [is] used to advise the surgeons when to cut, when not to cut; how much to cut. And that there's no room for me to make a mistake.
[01:57:52]
So I use the same principle when I decided to diagnose infectious disease, like a Lime disease, covid-2, SARS-CoViD-2. And the best way, the most accurate way, is by [DNA] sequencing. I think, I don't think anybody disagrees with that. Because with the xxx sequencing, you can see the sequencing of the gene. You have 400 bases sequence of the viral gene demonstrated on actual [phil gram]. The diagnosis is accurate. There is no question about it. And in 2003, in China, in Germany and in [the] United States, they were all using cycling sequencing, DNA sequencing to diagnose SARS-CoViD-1. And once you diagnose the case, you isolate it, you treat them, you prevent spreading of the virus. And that is the case. And I think, at least scientifically, it makes the difference. And even Drosten, at a time the advice to use 400 base pair sequencing, to make a diagnosis. And also in USA, the CDC also recommended sequencing or those 368 bases, for accurate diagnosis of SARS-CoViD-1. so that's a difference.
In 2019 and 2020, it all changes. Instead of using DNA sequencing, they use an RTQ PCR assay for "presumptive" detection of CoViD-2 [xxxxxxxx] not my language; the FDA said it was a presumptive detection of genetic [nucleic] acid. And actually, in Wuhan, both in Wuhan and subsequently the in the United States, if you look at the literature, there are a lot of the false positives. But unfortunately…, not many of [these] reports get published in mainstream medical journal[s], because it does not fit the business system.
Not in China, nor in Europe, not in the US. And actually, in the US, the CDC openly deviated from its established protocol by introducing the 40 RTQ PCR test, based on its pattent, actually. The CDC had a pattent after 2003. Because a group of scientists in the CDC predicted, "One of these days, covid virus will come back." So they prepared for the test. They applied for a pattent on it. And actually, the current situation in China and Europe and the US are flawed, because of the false positives, false negatives in the test.
[02:02:39]
And if we look at the history the covid-19 outbreak and the subsequent pandemic actually was created by city administrators' blunders. It's a– in Wuhan. And … at the very beginning. And that they did not know that it was possible for human transmission. And they had this big festival before the chinese new year's eve. And that was the major spreading event, because Wuhan has international flight. Once you get that, it goes all over– to Germany, to Japan and Hong Kong, everywhere. And after the outbreak in Wuhan, there was a complete lockdown for 76 days, until April 8th, from January about 20 to April.
And this lockdown practically eliminated the covid-2, in China. This stopped in Wuhan. You isolate a population, lock down a population, completely. The lockdown in China is complete, absolute lockdown. If you lock down the people for two months, the patients either die or recover. So it's obvious. It will it work, provided the virus did not mutate. And in those days, there was no mutation. It took about 10 months for the virus to show up, the alpha variant mutation in United kingdom.
[02:05:10]
So it worked in China. However, China did not have the alpha, beta, gamma, even delta in 2021, 2020. So it was successful, by experience. So the Communist Party … administrators, believe you can lock down as you did in Wuhan to eliminate, to have a zero covid policy to be successful.
But they did not expect that China is no longer a closed country any more. The omicron variants kept coming from outside world. And that is the problem. But they don't want to admit it, because they lose face. It's very important for the government not to lose face in China. So that is the, that is the problem, based on their experience.
[02:06:48]
Now correct early diagnosis and the early treatment does work. It showed in a report based in Wuhan. And this report, I copied the table here. The reference, you can look it up. About the non-healthcare workers, and the healthcare workers in comparison: the healthcare workers at a time when Wuhan had the bad epidemic, and the healthcare workers had a high rate of infection compared– 2.1 percent to 0.1 percent in the general population. However, the healthcare workers, when they got covid-19, they were diagnosed early, earlier than the general population. Therefore they had much less case fatality rate. It's 0.9 percent, to 5.3 percent.
So early diagnosis is important– accurate early diagnosis is important. It'll reduce fatality rate.
Now… and people now said in China because of the ending, the sudden declare of the ending of the zero covid policy, therefore it created a lot of infection, which may be partly true, may not be. Because when you're– I look at a chart published shortly before China declare the ending of the zero covid policy, the month from November to December the 4th. In Kwangzhou, they had 185 314 new as a test positive results. And out that, 90 percent of the cases were asymptomatic basically you just, you can disregard them. You don't, you can disregard them. And only four people infected, were classified as serious cases. And no one died during that month, in Kwangzhou.
So this is… it's complicated. The relationship is complicated, and unless the Chinese also do the sequencing test for accurate diagnosis– and we don't know what is going on– and the Chinese cannot convince the world, you know, what is the real situation in China right now.
[02:10:56]
So now the public in China does not trust PCR test results any more. And this is because of the corruption, high profit, and violation of regulations. And actually, this corruption is worldwide, you know? In China it's exaggerated. Because it's power. But the public does not trust the PCR test result any more. So you can see in the social media coming out of China, people switch to antigen test. The test is done quickly, by the patient himself. And it's not probably better than the PCR test. And actually the CDC and FDA already advise that if you have antigen test positive, you should confirm by another test, by the PCR test.
So to find the truth, I think the Chinese should be perform[ing] DNA sequencing. And I spoke with some molecular biologists who are really knowledgeable molecular biologists in China, and they agree. But unfortunately, as it happens here, the best test method is not available. They don't want it, because it will reveal the ugly truth. The first thing is that if you'd use DNA sequencing, so the efficacy of the Pfizer vaccine is in serious question. Because they have not prooved the placebo positive samples really contain a segment of RNA sequence of the virus. Actually, they have not. So that is the situation right now in China. We don't know what is going on, because everything is murky.
[02:13:41]
So I leave that. And we like to receive questions. and what I think is important may not be so important to the rest of you, or to your audience. So I open, I'm open mind to answer questions freely. So that I think that the important thing is to discuss our different opinions. And this is one way to achieve correct science. So thank you.
Viviane Fischer:
Yeah, thanks so much.
Wolfgang Wodarg, MD:
Thank you.
Viviane Fischer:
Wolfgang, you go ahead.
Wolfgang Wodarg, MD:
Thank you very much for your words and for your information. You said something about the first SARS-1 diagnosis.
Sin Hang Lee. MD:
Let me find here…
Wolfgang Wodarg, MD:
If I understood you well, you… told us that they used already sequencing to find the cases. And I remember, because I was observing that, in that time, that for many months in 2003, there was not corona virus made responsible, but they were looking for many bacteria many other microorganisms that could be the reason for this. So when it started in 2003, they didn't find anything by sequencing, but they already counted all the cases. They counted all the people dying from this SARS. And it was in [Gwangzhou], which is a very, very big capital with millions of inhabitants, where you have ten thousands of pneumonia cases each winter. And so I… wonder whether in retrospective view… we can find out how those cases were identified and how those cases were– the differential diagnosis was done.
I remember that Mr. Drosten was already, in 2004, he was already cooperating with China and he was already have offering his PCR test to the Chinese government to find cases. And as, when I remember well, they already in 2004 used the PCR test to identify the cases. And I also remember that there was, there were some cases I think in… North America or Canada. there was an [asylum] for old people where there were in the staff and also among the patients, the people living in this a house, there were cases of SARS, which were counted as SARS cases, which were exported. And there was an examination afterwards. There was a group of people who tried to find out whether it was really SARS. And they found out it was not SARS; it was… the old corona virus. We have the diagnosis, where we have the diagnosis or the old four types, which are well known, and some other infections. There was no SARS in… that, in… those cases.
[02:17:06]
So I wonder whether we can be so very sure what it was in this time. And the mortality, I just spoke about it before, when… because when you… look in the hospitals, when you look in the intensive care, and you find a rate, a mortality rate of four percent or ten percent, even, it's, this is not, this is normal. If you have pneumonia cases in intensive care in situation you have a very high mortality. This is completely different as if you look for respiratory diseases in the population. You will find below zero. And so I… doubt all those numbers we, that are transmitted from that time. And I think we should… big, make a big question mark on that.
Sin Hang Lee. MD: [02:17:59]
I agree, but the … the data I presented is what I read. yeah at the time, the chief epidemiologists in China, So Nan San. And he… was using DNA sequencing to diagnose SARS cases in 2003. And the CDC also advised to use DNA sequencing to verify the PCR product, in order to make certain [did not notice it] for definition of cases. But they did not do that in 2019 and… 2020.
Now Drosten… had a connection with Wuhan Medical School. And I saw a picture [there] because Wuhan Medical School used to be called Deutsche Medizine Hochschule in the old, old days, you know? So that in addition to the Wuhan Virology Institute, you know … in Tongzhi University. Once upon a time was called Wuhan Medical College. It changed the name all the time. And Drosten had a collaboration with them. And actually, some of my data presented were from Tongzhi teaching hospital, and probably had a connection with Drosten influence in China. And they predicted something was going to happen in … in the future, back in 2003, so they prepared for it. So that the, so it's a– I… agree that we need to look into all the cases. But I don't think they will allow us to get access.
Wolfgang Wodarg, MD:
[02:20:41]<br
No, there's little transparency.
Sin Hang Lee. MD:
Right, no transparency, no, no, there's none.
Wolfgang Wodarg, MD:
Yes, and it was very few cases for such a big… population we were speaking about. If you have a respiratory disease which is contagious, like corona virus which is very contagious, you know only nine, only seven thousand cases in the population of more than 20 million people, it is not believable. The normal– if you have any flu virus, if you have any flu virus, you have within a quarter of a year, you have 20 percent of the population having this infection, within a quarter of a year. Within a week, you have two percent in the wave, in the… flu wave. If two percent of the population getting ill– this is the numbers from Europe, and this is, the virus doesn't change the much from Europe to… Asia. So I think the the… incidence of… respiratory virus disease is around one to three percent of your population per week. And so if you… regard a quarter of a year, it's more than 20 percent of the population. And in a population of twenty million people or more, you must have more than 9000 cases.
Sin Hang Lee. MD: [02:22:07]
They– you remember Asian flu X2N2 virus in 1957, 1958, you were too young for that.
Wolfgang Wodarg, MD:
Yes.
Sin Hang Lee. MD:
I was in China at the time, and the a senior lecturer at [Quiyung] Medical School discovered the X2N2 virus, this entirely new virus, immunologically. And she reported this invasion in 1956, you know. She alerted the government something is happening. However, she… make some unfortunate statement, and she was classified as a rightist. You know what rightist is.
Wolfgang Wodarg, MD:
Yeah, we know that, yes.
Sin Hang Lee. MD:
So her name was wiped out from the literature. Officially, the discovery of X2N2 virus was credited to two technicians in the provincial healthcare department. OK. In China in 1956, '57, there's this internal passport system enforced. No Chinese were allowed to travel without permission, even on train. Of course, as holiday was out of question, in those days. And it took one year for the X2N2 virus to get to Hong Kong, travel to Hong Kong. Once it got to Hong Kong, boom! It spread everywhere. And statistically, it caused about three to four million deaths in that time. But the statistic may not be accurate, but a lot, in the… millions deaths, the asian flu. But China is spared. We… had no, I–
Wolfgang Wodarg, MD:
It was one of those spikes, you know, when it, when you see all the… victims of flu, you see the… statistics all those years. You see in the Second World War and before, you had five times more higher spikes than you had after the Second World War, and without any vaccination, anything. Just, it was, maybe there are many reasons– whether they didn't count it, whether they counted it different. Or you have all those– because you didn't have antibiotics. So you couldn't… fight all those secondary infections coming after the flu. And all such things may play a role that the… death count was so high.
But after the Second World War, with the invention of the antibiotics and with better hygiene, in many countries you had very low– and you all– you see only, or every four or five years, you see a little bit higher spike. And the… so-called Asian flu was one of those little bit higher spikes in… the '50s. And there was… another one then later, there was three or four such highest spikes. The last one was in 2017, 2018.
Sin Hang Lee. MD: [02:25:48]
Yeah. Yeah. For… Asian flu, I was very familiar, because I worked with–
Wolfgang Wodarg, MD:
Yes.
Sin Hang Lee. MD:
–the true discoverer. And actually, she was working under a Harvard-trained professor, in the outhwest China. And so… that's the problem.
Viviane Fischer: [02:26:18]
I have one question. Like maybe I didn't hear, in the current, in the… current situation, do we have– and I mean, maybe not reliable information, if like more old people or young people are affected? Because there was also rumors that it's a lot of young people. Is that true? I don't know if you… said something about that already and I just didn't… because I was out for a short time.
Sin Hang Lee. MD:
Yeah… no available … probably got more infection. Yeah it's true.
Viviane Fischer:
Right now. OK.
Sin Hang Lee. MD:
So right now old people, it has an immunity decrease,
Viviane Fischer:
Yeah but, so the story that it's now effecting a huge amount of young people it's not true. That's, we do not have any any evidence for that. Is that right?
Sin Hang Lee. MD:
No… I think the young people is OK.
Viviane Fischer:
OK.
Sin Hang Lee. MD:
So in China, they only classify the people who die of respiratory failure as [a] case, as covid-19 case.
Viviane Fischer:
Um-hm.
Sin Hang Lee. MD:
So if, so therefore the number is very low, artificially low. And also that the, if the covid virus is detected in a patient with a heart attack and die of heart attack, they exclude them from statistics. So that's– and here, United States you lump everything together.
Viviane Fischer:
Yes.
Sin Hang Lee. MD:
–because of money.
Viviane Fischer:
Yeah, it's the same here.
Sin Hang Lee. MD:
xxxxxxxx it's money.
Wolfgang Wodarg, MD: [02:28:33]
We have, I have such statistics here from China from the, where they made differential diagnosis and where they've tried to find out which… kind of virus could be the reason of those hospitalized patients with… acute respiratory diseases. And you see here the HRV and you see RSV, PIV for influenza and you see, we see corona here, too. Oh, just a second. You see corona was here. And it was about between three and 20 percent of all the infections hospitalized. The acute respiratory in China were registered like this. This is just what I found in in literature, and it's quite interesting.
So I think it didn't, it doesn't change so much in those years, because the other viruses still want to survive, too. And it's… very important what we try to find, what we… are looking for, where we invest in diagnosis, and where we don't look. So it's, there is a very, very big attention bias in all those statistics. And if you have the media or the politicians focusing on certain viruses, and they give money for looking at, for searching for those viruses. And when you… have money to search, you find more. So we have– this is a very, very big bias, and we always– when we want to say something about your epidemiology, we always have to be careful with such things. We always have to have in mind that there is no objective data, but it– there is no observation without observers. And the observers, they have certain motives, where they look at, and what they use, which method.
[02:30:20]
So we have to be very careful but it's… very, what we do now, just counting the dead, dying people and… finding out why they died. There would be one very easy thing. We could just say, if someone died, whether he died having got the shot or having not got the shot. This would be very, this is very hard data. And we could know it, because the shots are registered. We know, when people die, whether they got the shot or not. And if it's, it would be very interesting to have all mortality and even mobidity, comparing since 2021, whether people got the shot or they didn't get it. And this is not done.
When you look in literature, you find very few… people working on such a distinct, on distinguishing this. It's the, the science seems to be blind, and this a, this is a very important… thing we could easily find out. And it's not done. This is horrible, I think.
Sin Hang Lee. MD: [02:31:30]
Yeah, I think they'll, all the PCR positive test ought to confirm by DNA sequencing, to know what is going on.
Wolfgang Wodarg, MD:
Yes, but you said, you also said that even if you find something with… sequencing, there are people asymptomatic. So you can… find something with sequencing with healthy people.
Sin Hang Lee. MD:
It's correct, yeah. So the… thing about the day the clinical picture, and also the virus sequencing can be the bystander of a major killing disease.
Wolfgang Wodarg, MD: [02:32:17]
Yes. I think that sequencing is a very good thing when you… have someone who's really ill and, you know, you make a differential diagnosis, and you look for all possible. You make a, first you can make a multi test to try to get some hints. And when you have those hints, you can sequence and you can… go on and make it more exact. I think this is good, but it doesn't have so much consequences for the clinical treatment, because we don't have… real drugs who xxx xxxxxx. So it's just a scientific thing. And you have to have money for such a scientific examination.
So somebody has to pay [for] the sequencing. And if you go for money in politics, if you, if you go for money in industry, you will get money only when you fulfill their wishes, when _they_ want to know something. And this is not always the truth. This is the problem.
Sin Hang Lee. MD: [02:33:14]
But the sequencing actually, if you do it correctly, it does not cost much money, not… more than the RTQ PCR,
Wolfgang Wodarg, MD:
OK.
Sin Hang Lee. MD:
…being used right now. Yeah. Four hundred some dollars a test, you know.
Wolfgang Wodarg, MD:
Um-hm. um-hm.
Sin Hang Lee. MD:
It's… tolerable. It's self-sustained. See, right now, there's no diagnostic variant test. They have epidemiology tests, but not diagnostic tests. The WHO said [we need a] diagnostic test, so that we know, we should know are this variants relevant at all? The minister of … health in Australia said there is a soup of variants out there. A soup of variants over there. And one person might be infected by numerous variants, or sub-variants right now.
Wolfgang Wodarg, MD:
So that when I have this, see this image that on some place in the world, some people look for more details in the structure of the virus. And I see those almost one million people, or several million people traveling each week around the globe, transporting the viruses around the globe, each day, millions of people. And so I… think, what does it tell us when… you've, when you have a look in… one place, where use have a certain local presence of several viruses? The new viruses may in the meantime grow in Stockholm or grow in… Ontario or grow in, I don't know where, in… Bangkok, or– All over the world, the virus is always changing, not only in one place. And we observe… only there, where you have special laboratories for that.
[02:35:48]
So this is very difficult, with a molecular perspective, to say something about diseases spreading in the world. It depends too much on who looks, with which method, and where, and how often. And I think it's… so, it's much more easy when we have a good system of surveillance what… the morbidity goes. The morbidity is the most important thing. If people get ill, there is something wrong. And we have to find out where it, where are people getting ill. And then we can see, try to find out why. And so when you… make diagnosis in the hospital, there are people who are ill, and it's good to find out why, and it's very good to… examine them thoroughly. but it is a completely different thing if you want to have an overview over spreading viruses in the world. I think this, you need completely different methods.
Sin Hang Lee. MD: [02:36:45]
Right. The diagnostic method it's different from the epidemiology. So they… method.
Wolfgang Wodarg, MD:
Yes. Yes.
Sin Hang Lee. MD:
Did not… Because in diagnostic… method, it's related to the significance of the disease.
Wolfgang Wodarg, MD:
Yes.
Sin Hang Lee. MD:
Right. So does, that's why the pathologist comes in.
Wolfgang Wodarg, MD:
Yeah, completely right. And we have, you know, about the pathologists we have in Germany working, who was distinguishing whether the… damage in the heart, the myocarditis, comes from the virus or comes from the… jab. It's so interesting, what they do. And they, because they can distinguish whether they only find… the spikes, or whether they find also the surface, the envelope, or something other parts of the, of a virus. And if they only find the spikes, it's very… safe that this comes from the jab. which makes the people produce the spikes. and there is no envelope, and they don't find any envelope starches. So I think this is a very good thing for pathologists to distinguish, whether the damage is done by the jabs or is done by a virus in future. And I don't know whether you have such diagnosis or differential methods also in… United States, whether you use them.
Sin Hang Lee. MD: [02:38:14]
And actually to call vaccine myocarditis is a misnomer. It's a necrosis, a… myocardial damage.
Wolfgang Wodarg, MD:
Yes.
Sin Hang Lee. MD:
Pathologically it's different. It's not inflammation alone. It's because pro-inflammatory factors, … the tumor necrosis factor alpha.
Wolfgang Wodarg, MD:
Yes.
Sin Hang Lee. MD:
A lot of interleukens that cause myocardial damage.
Wolfgang Wodarg, MD:
Um-hm.
Sin Hang Lee. MD:
Actually you look at a pathology report.
Wolfgang Wodarg, MD:
Yes.
Sin Hang Lee. MD:
Look at a picture.
Wolfgang Wodarg, MD:
Yes.
Sin Hang Lee. MD:
They have necrosis of the myofibers. There is a difference. And the pathologist who wrote a paper actually imply that it was different… It is
not–
Wolfgang Wodarg, MD:
But it's so interesting what [Arne Buscher], what Professor [Buscher] does when he is distinguishing whether he finds some…, he can, he has a certain method where he can find out whether there is some part of the envelope of the virus [which] was in… this region where the… immunological process and destruction is is happening. He finds [remnants] of particles of spike protein, or he doesn't. or he finds also something of the… envelope of the virus. And this is a– mostly, he finds only spike protein and nothing from the envelope. So it cannot be a virus but it must the… consequences of the jabs. And this is a very good method, I think. And we have– and it would be good if it would be used worldwide. I don't know whether you have contact with Rrofessor [Arne Beucher], but this would be good. They are publishing a lot now.
Sin Hang Lee. MD: [02:40:17]
Actually I wrote my letter to the FDA … in early 2021 probably, just before the vaccine, or at a time when the vaccine was approved, the first vaccine, Pfizer vaccine was approved. And I predicted there would be myocardial damage in my letter. Not myocarditis. It's myocardial _damage_
Wolfgang Wodarg, MD:
I know your letter. … it's true. And it happened.
Sin Hang Lee. MD:
Yeah, it happened. I predicted. because they were, some people died already when… early, in early stage.
Wolfgang Wodarg, MD:
Yes. It depends, i think, whether they get the intramuscular injection, or whether you do inject it directly into the veins or into the blood. Then it's very … the reaction in the heart is very rapid. Or may be very rapid.
Viviane Fischer: [02:41:22]
Yeah, well it sad to see that some of the predictions that were made in the beginning, you know, and that could also be actually like, do you know, like you could kind of see it coming from studies that had been done beforehand, that a lot of them are now coming … true. So it's… really a very sad situation. But I think it's important that we point the finger on it. And thus have a chance also to … get some studies going, or like to alert people to the problems that are ahead, and maybe stay away from more boosters and from other things. And … are aware of the symptoms, so maybe they can be treatment if you see it come in early. So yeah, I think it's important that we continue to… look at things in detail.
And yeah, I don't know, Dr. Lee, if you have some, something to add, like a last, final statement to your very interesting presentation?
Sin Hang Lee. MD:
No, thank you.
Viviane Fischer:
OK, great. So I think it's… fantastic that we had like, two views on the situation on China with a little bit different angle, today. So we are, yeah, trying to shine a light into the black box from various sides. So I think it's… good, great that you had time to come to talk to us today. Thanks so much.
Wolfgang Wodarg, MD:
Thank you very much. Thank you very much, Dr. Lee.
Sin Hang Lee. MD:
Thank you. Thank you for inviting me. Thank you.
Viviane Fischer:
Super, yeah. I'm sure we're going to stay in touch and… have more information in case there's some new developments or you learn something like, more in detail from China and so on.
So yeah, let's… stay in touch about these things. Thanks… so much, and then happy new year to you.
Sin Hang Lee. MD:
Thank you.
Viviane Fischer: [02:43:21]
Thanks a lot.
---
Corona Investigative Committee, 136th Session on December 30th, 2022
Dr. Victoria N. Alexander, PhD
Philosopher of Science and Art
(Original language: English)
[Transcript from Team corona-ausschuss-info.com + Ed]
---
Viviane Fischer: [02:43:23]
Yeah, now we going to turn to our next guest. It's Dr. Victoria Alexander, and it's something completely different, yet related to some extent.
And I don't know, can you hear us? Are you with us?
Victoria Alexander, PhD:
Hi, yes I'm here.
Wolfgang Wodarg, MD:
Hi.
Viviane Fischer:
Hello, fantastic. Good to see you. So let me just introduce you a little bit, and maybe you can add, then, if I leave something out. You're a philosopher of science and arts, editor of the Dactyl Review. You hold a PhD in English from the Graduate Center of the the City University of New York. And you have completed a dissertation, or done dissertation research in teleology, evolutionary theory and complexity science, from the, that's from the Santa Fe Institute. And your fields of specialization are narrative theory, philosophy of science and twentieth-century novels. So you're quite broad in your interests.
And, yeah, so we are now going to look into another black box, at least in the, trying to shine a light into the, where the brains or the thoughts of a few people who are obsessed with this artificial intelligence and what it all means to us. Yeah if I maybe, if I left something out that you would like to add with regards to your professional background, please do so. And then I'm very interested to… hear what you have to say… on the subject.
Victoria Alexander, PhD: [02:44:56]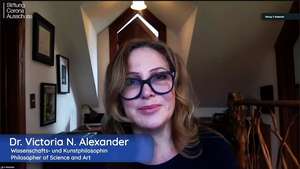 Yeah, maybe I'll give you a little bit more of my origin stories and how I became interested in this, and in particular you were responding to a Substack article that I wrote about Yuval Noah Harare's conception of free will. And based on that conception, he makes arguments as to why we need this transhumanist agenda.
So, so I'll tell you a little bit about my background as it relates to critiquing these, what I think are unrealistic goals of the transhumanists, and specifically Harare's notion that humans are basically machines, and that free will doesn't exist. He says because there's no such thing as an essential nature, independent of all physical and biological constraints, which is far too simplistic a notion of… free will. And I don't know any philosophers who have ever thought of it in that way.
But… so I started out, as you mentioned, studying English literature twenty years ago, narrative theory. And at the time, post-modernism was just going out of style, and the idea that God is dead, that there's no telos, there's no purpose or meaning in the natural world had been extended to the idea that the author is dead, and that there's no intentionality in a fictional world. And it was said that an author is not the creator of his own work. He's sort of this conduit through which material forces act.
And this is very similar to the idea that Harare repeats today. He claims that, you know, every choice that you make is really determined by, you know, your genes, your biochemistry, your family history, your… culture and so forth. And in my opinion, this was really a disaster for a literary criticism, insofar as scholars started paying more attention to the supposed determining factors, identity politics, really. And they ignored what made a novel or a poem a work of art.
So, okay, so I started questioning, trying to figure out what were the qualities and language that made a work of art _seem_ like it had an author, like an agent, like it was a source of this new meaning. And I also asked what kinds of events in the natural world seemed, made it seem as if there was an author, you know, with a capital A. Then I've studyied teleology, which is the study of purpose in nature, goes back to Aristotle and Augustine and Aquinas and Comte and Darwin of course. But at the time, these questions were really being investigated anew, in complex-systems science, the study of self-organization and even chaos theory.
So long story short, I ended up doing my dissertation with a… physicist at… Santa Fe Institute in New Mexico, which is the premier center for the study of nonlinear dynamics and complex adaptive systems. And my dissertation was on the history of the idea of free will and purposefulness in nature. And I also formulated a very secular theory of agency and purpose. I worked in evolutionary theory on insect mimicry, and I went into a field called biosemiotics, which is where I work now. I study how signals are developed by biological systems. And I mean, just very briefly, the, a cell can respond to a chemical signal because of a useful process that will be triggered downstream. So the signal stands for it later effects. There's no direct connection between the sign and the later effects, So we look at those kinds of phenomena.
In the last seven years or so, I've become interested in Alan Turing's late work in morphogenesis, which is the creation of form, and how that's related to what he thought about how brains work. I think that if he hadn't died when he did, he would have taken computer science in a… different direction. Published a lot of work critiquing AI, because computers process information in ways that are very different from the way that animal cells do. It seems like the transhumanists are unaware of this kind of phenomenon.
[02:49:56]
And I have, I will start my slide if I can share screen…
Wolfgang Wodarg, MD:
It works. Yeah.
Victoria Alexander, PhD:
Okay. So when I started to write this Substack piece on Harare, some people said, you know, "He's just a pop science writer, a you know, pop historian. He's not a serious thinker." But people do take him seriously. Some people believe him when he claims that he is concerned for the future of humanity, because he says AI is going to take over your job, and the government, and the economy, and the judicial system.
And he, like a lot of the people involved in the World Economic Forum, seem to say, "Well if we can't beat AI, we have to join it. No, literally join with it. And I think in this way, he's very similar to Elon Musk, too. Harari does not seem to know much about the history of the idea of agency or how to define it. And he doesn't seem to be aware of any current debates in neuroscience or complex systems science about the nature of free will and how human beings, or any animal, is not just like a machine. But he's not alone.
[02:51:32]
In September of this year, President Biden issued an Executive Order on "Advancing Biotechnology and Biomanufacturing Innovation for Sustainable, Safe, and Secure American Bioeconomy". The order was pledging funds to the biotech industry to enable it to write circuitry for cells and predictably program biology in the same way in which we write software and program computers. I think maybe we can be glad that they've admitted here that the, currently the biotech industry cannot currently predictably program biology or effectively "write circuitry for cells", as demonstrated by the abject failure of the covid-19 synthetic mRNA injecctions. So perhaps they understand their limitations, but we might be concerned that these technocrats, because they believe mistakenly that once they unlock the power of biological data, they _will_ be able to effectively control human bodies and they'll continue to _use_ us as lab monkeys until they figure it out.
The Executive Order also states that "The COVID-19 pandemic has demonstrated the vital role of biotechnology and biomanufacturing in developing and producing lifesaving diagnostics, therapeutics, and vaccines that protect America in the world." So it's not just a pop historian, science writer, who has these unrealistic notions about biology. It's a powerful government, pledging billions of dollars in support of furthering this kind of agenda.
Some see this issue as a battle between ideologies of atheism like, you know, pure mechanism and spiritualism. But there's very compelling scientific and wholly seccular arguments supporting the idea that human beings are agents, we aren't just machines, and we can think for ourselves. I picked Harare's 2018 article in The Guardian to analyze. But most of his work pretty much has, repeats the same message over and over again. Although the World Economic Forum transhumanists may not have a unified ideology, we can look to Harari, who is a prolific writer, to get some general sense of the assumptions that these elites have, and make them think that they should or could control or try to alter the course of human civilization and human evolution even, and recodify human rights.
[02:54:49]
Their grandiose narcissism verges on a kind of cartoonish, comic-book villain…, but we nevertheless have to take their words and their plans seriously, because their claims to ownership and control of our monetary system, communication infrastructure, natural resources do, unfortunately, lend them quite a bit of power for the moment. I don't think they can hold it.
So Harari says in that article that liberalism tells us that the voter always knows best, that the customer is always right, you know, so democracy and free markets, and that we should think for ourselves and follow our hearts. Unfortunately, he says free will isn't a scientific reality; it's a myth inherited from Christian theology. Theologians developed the idea of free will to explain why God is right to punish sinners for their bad choices and reward saints for their good choices.
Although the stated objectives of the west's transhumanists are cloaked in tones of benevolent concern, like Harare's are, they are more or less open about the fact that they want to trade in our self-governed and representative democracy for some sort of AI-managed surveillance system that will ration resources with, you know, equity and keep tabs on performances, transparency. They propose– the proposed tools for this include central bank digital currency, CBDC, which will record every transaction; social-impact investing, which aims to control society, often with gamified software for education, health monitoring, welfare recipient monitoring and job skills training. It's basically a social credit system.
Harari argues in _The Guardian_ that liberal democracy and the belief in free will are actually dangerous, because governments and corporations that have access to everyone's digital histories will soon be able to "know you" better than you know yourself, and they will be able to "hack you", put ideas in your head, get you to buy bad things and to vote for bad people. He also thinks that the easiest people to manipulate will be those who believe in free will. In contrast, the ones who know that they can't think for themselves will be saved by AI babysitters. In Harari's future world, there will… not be a God dangling the carrot or brandishing the stick, but there will be an all-seeing AI that does.
He says what we need is an anti-virus for the brain, your AI sidekick– and this is an idea of a digital twin, a digital avatar. Based on all your activity on the internet, you created this AI that represents you. This AI sidekick, he says, will learn by experience that you have a particular weakness, and it will block it on your behalf.The obvious alternative solution to the problem that corporations and governments have all your information would simply be to protect privacy and make data collection by governments and corporations illegal, without full informed consent. But that has never occurred to Professor Harari, apparently.
From the promotional videos made by the WEF, World Economic Forum, we can gather that an internet of things and an internet of bodies is slated to replace the functions of community and social and political structures. In the future, researchers will develop these brain-machine interfaces, BMI, that will monitor and eventually, they think, help _cause_ our thoughts and actions, as well as diagnose and treat any mental health conditions. We will be ushered into smart cities. Agriculture will move into laboratories, and we'll be fed this synthetic chicken and worm burgers and LED-grown medicated lettuce, in exchange for doing some kind of work that'll probably involve operating mining robots or drones using virtual reality headsets.
[03:00:03]
And this all sounds crazy, and I wish I were exaggerating for comic effect, but these are the kinds of programs that are being promoted by the World Economic Forum and in Klaus Schwabs book, The Fourth Industrial Revolution. Despite the transhumanist claim that they strive to _augment_ human abilities with new technologies, the kinds of hacks that they've offered so far are mostly negative. It's relatively easy to maim, disable, block, traumatize and propagandize. And they've been successful in hacking some of this– some of us in this way. But it will be a little difficult to figure out how to use BMI to make us smarter or to read our thoughts so that we don't have to type or speak any more. We could just go from this chemical impulse to action without any kind of mediated thought that's possible through language.
As Neuralink's recent show-and-tell which I have here, but you can look at on YouTube, they revealed that the company's progress so far is pretty underwhelming. As human trials near on paraplegics, the infection risk associated with implanning a device in someone's brain to help them operate a smart phone doesn't seem justified to me. Why go through all the trouble and the brain surgery to detect brain activity of motor control, for instance like moving your eyes or something like that, and then use AI to pick up the signal of that specific movement and separate it from the noise, and thn turn that signal into clicks on the screen?
The person could more easily operate the computer interface with voice commands. So why are they really doing that? I think it's some sort of obsession with the idea of reading someone's mind without the person's consent. That's speculation. It may be that the architects of the transhumanist revolution actually believe that AI-augmented and AI-managed society will be a big improvement: be more efficient, more objective, equitable, inclusive, free from the biases and prejudices that plague the human species. But it's worth noting that these kinds of plans have never turned out well in any of our culture's science fiction explorations. Perhaps none of the WEF members have ever read Mary Shelley or Orwell, or seen a Black Mirror episode.
We go back to our friend Harari here. Let me give you a historical perspective on the idea of free will. Harari promotes himself as an innovative and modern thinker, working to free us from medieval superstitions. Well it's 2022;it's at the end of 2022. Because Harari is still trying to debunk what little he has read of medieval theology, the closest conceptual relative there is to his notion of free will is found among the 18th-century enlightenment philosophers, who could teach the medieval church and who thought that free well was an illusion.
One of the most exemplary figures from that period is the mathematician Pierre Laplace, who famously said that if he knew the position and velocity of every atom in the universe at the beginning of time, he could predict every event that follows, even human actions, which are just the outcome of chemical interactions ruled by the laws of physics. And I've already mentioned that Harari believed that our choices are really determined by factors beyond our control. And Harari is still in that Laplacian mindset. He seems to be saying that the human body is like an instrument through which forces pass without being transformed by the organizational structure of the body: input equals output.
[03:04:48]
And nothing is interpreted by the machinery that's due. And Harari seems to assume that a– that living organisms are like computers and can be manipulated and hacked in predictable ways. Repeatedly in talks and articles and books, he suggests that a person's cognitive program can be altered by external forces, information or chemistry, because there's nothing inside the person to counter or alter all those forces. There's no ghost in the machine; instead, there's an algorithm in the machine, that can be decrypted and re-programmed.
While Laplace realized that he could never calculate, no one could ever calculate the mind-boggling number of interactions that would be necessary to predict human action, today's transhumanists are hopeful that supercomputers that are equipped with AI that's fed with all the mountains of data that's been collected on every digital move we've ever made– they think that they are closer to possessing the processing power to predict these outcomes precisely. And if those with access to computers can predict what people can do, they can control them. And I think, you know, that, that may be their intention. But maybe not. Maybe they can't do this.
In 1961, Edward Lorenz was using a computer to make predictions about the weather, and he found that if he made a tiny, insignificant change to the input, the output changed drastically, all out of proportion to the small change. So to model the weather is to try to model a complex system whose dynamics are non-linear. And that means that your ability to predict such a system's outcome does not improve in proportion to the amount of data that you input.
So all this idea about bigger and bigger data, collecting all this data on everyone and getting faster and faster processing is… not going to improve prediction and control as much as the transhumanists hope, I believe. And that's why we're not there yet. And that's why we're not going to get there, in what we're doing right now, you know. Who knows what's, what might happen in the future if, if they try to design computers in a different way.
But biological systems are infinitely more complex than weather systems. So with Lorenz's discovery of deterministic chaos, any hope that one would ever be able to accurately… predict and thereby precisely control a human beings actions had to be abandoned. And in 1986, nonlinear dynamics researchers Crutchfield et al– that was my dissertation adviser, Jim Crutchfield, Packard Shaw and their group, Packard, Shaw and Farmer– they published a watershed article called "Chaos" in Scientific American, in which they expanded on Larenz's findings, arguing that even if the universe were entirely deterministic, like Laplace imagined– and most likely it's not– complex biological processes are inherently unpredictable, due to the way they internally process information. Thus, ultimately they are uncontrollable, except in trivial ways. And we can talk more about that later.
[03:09:03]
But mostly just in blocking or harming in some way, but not, not augmenting. In the "Chaos" article– which I think I have a slide for… yes– the authors grapple with the question of free will and how it relates to determinism and chance. And they conclude, a really surprising conclusion.
"Innate creativity may have an underlying chaotic process that selectively amplifies small fluctuations and molds them into macroscopic coherent mental states that are experienced as thoughts. In some cases, the thoughts may be decisions, or what are perceived to be the exercise of will. In this light chaos provides a mechanism that allows for free will within a world governed by deterministic laws."
So that's just a suggestion. But there followed many decades of research investigating free will in terms of self organization and complex system science. And today many neuroscience researchers describe how chaotic attractors and/or emergent traveling waves provide the differentiation and spatial patterns that underlie working memory and attention. Such findings by no means settle the question of free will, but we've come a long way since the 18th century, Hararei.
Of course, science is never settled, and arguments about free will will continue as long as human beings are around. Even as I claim that human beings very likely have some sort of capacity for making their own idiosyncratic choices, I also note that it is painfully obvious that people can be manipulated. In the last couple of years with horror, we have witnessed people lose the ability to think for themselves, at a chemical level. I'm talking about the traumatized people during the covid lockdowns.
At a chemical level, what has probably happened to these traumatized people is that the vagus nerve which is activated in a state of fear, triggered a release of hormones which locked in memories. Whatever kinds of associations, associative memories are formed in such a situation. For example, the idea that the vaccination is the only solution, that's going to become a very strong, persistent memory, even if it's irrational. And this is typical of post-traumatic stress disorder. And it's one of the things that I study at the biosyntician house, associative memories can be formed. This process of strengthening memories associated with dangers, with dangerous situation, is a very useful tool of our evolved biology, that has been hijacked, hacked, by those applying false information under a kind of torture.
But the fact that people can be manipulated was something like material– with something immaterial like false information, just shows that people's thoughts are not wholly determined by material reality. We can be deceived. We can also be physically forced into doing things that we don't want to do. We can be coerced. We can be bribed. We can be drugged. Our mental capacities can be damaged by illness. We can become addicted to our own habits. There are many ways in which our ability to think and act reasonably and for our own good can be compromised. But this in no way means that free will has no scientific reality. It just means that we're part of the world we live in, and we're affected by it.
So free will is not about having no constraints, as Harari says. Free will is more about being responsible for your actions. Being free is not an all-or-nothing property. It's a constant negotiation. The term we really wants here is _agency,_ not free will. Not thinking can even be part of how we exercise agency. For example most the time when we're doing our daily activities we're on autopilot. We can drive our cars without really thinking. We can even react intelligently in a split second if we see red lights up ahead. Subconscious auto-thinking can also switch off if we encounter a new situation that we don't have a mental habit for. And that allows us to learn something new.
Maybe the tragedy that we're currently suffering through is due to the fact that too many people put themselves on autopilot, outsourcing the responsibility of making decisions for themselves and their children to trusted authorities. Unfortunately, thinking for yourself requires a lot of work, and no one else can do it but you. Whenever I find myself in a crowd of protesters who are all yelling "Freedom, freedom", I think it should be "Responsibility", which doesn't work as well as a chant. But in my opinion it's probably a better description of what we all want. We don't want freedom to do whatever we like, selfishly. We… want the personal responsibility that comes with being free to question, research, discuss, decide and act.
Likewise, we don't have the right to do whatever we want with our children. We have the responsibility to protect their health and wellbeing. And to conclude, in a word, the phenomenon of free will is understood as emergence from biological constraints, relations and what I would call "self-made luck", in the way that your body interprets physical codes and signals. It is not true, as Harari claims, that the concept of free will has only ever been based on a notion of a pre-existing essentialist nature that is independent of all physical and biological constraints. That's just wrong.
But my objective here is not to win a philosophical argument against Harari. In fact, it's better for us, I think, if the World Economic Forum members continue in their simplistic views, not only of human nature but also of ecosystems and societies. Their ignorance is their Achilles heel. It allows them to believe that it's possible to achieve top-down control over a complex system like the planet and all its inhabitants. They are certain to fail.
The danger is, of course, that they will take us down with them. Catastrophic change is already under way with our food supply, and many people have already been harmed by the covid vaccine rollout. We have limited time to position ourselves to save as many people as possible, but I think we do have a chance. A complex system like human society is interconnected in so many ways that it maintains itself to a great degree automatically by self organization, and to a lesser degree by conspirators. The role of habit in maintaining the system as depressing change cannot be overstated. You know, that's why a system as corrupt and broken as ours just keeps going– out of habit.
[03:17:24]
But to… implement technocratic totalitarian rule, these fourth industrial revolutionists won't be able to just fine-tune this present system that they've– they're either going to have to take down the system that they've corrupted and abused to get to their positions of power, and that will leave them vulnerable. If they want us to become dependent on their
lab-grown food rations they'll have to sink the shipping industry, lose food processing plants to suspicious fires, outlaw fossil fuel agriculture and slaughter the herds in factory farms.
So many aspects of the economy and society hinge upon the present very, very faulty system, that when it is disassembled, there will be a devastating shock, and we can expect chaos. The outcome will be impossible for them to control, even with all their economic powers. And during that time of chaos, we will have, I think, just as much of an opportunity as the WEF, if not more, because there's so many of us. and that'LL be our time to take advantage, and pivot to try to create the world that we want. We can push back against this impoverished reductionism that sees biology in terms of digital computing.
I'll just end by mentioning a little bit more about the work that I do in biosemiotics and my notion of agency. Even very simple organisms like slime mold can make creative and adaptive use of error, in ways that computers can not.
For example, one, by over-generalizing similar signs, as with molecular mimicry. This allows organism to learn something new. Many pharmaceuticals will trick the body with molecular mimicry. It can also lead to something bad: auto-immune arises from this as well. And two, slime mold or, you know, any kind of organism can make use of error by associating two things that are arbitrarily linked in space and time. And this is similar to Pavlovian conditioning. Chemical connections, bonds, are created between things that are not naturally or logically connected.
And there are many kinds of physical interactions that can make organisms impossible to precisely control, without risking unforeseeable side effects. Medicine is said to be an art for good reason, because it's not like computer programming.
OK. Thanks, and I'll just unshare my screen.
Viviane Fischer: [03:20:40]
Well, very interesting. I was wondering… so the, I mean, to me sometimes it seems as if, do you know, this idea that you could improve yourself or like the… whole human kind could be improved is… really just a… trick to lure you into, like going along with that. And in fact what they, do you know, that's maybe also why they, why we see this kind of endeavors to… go inside the body, you know, like to put something into the body. Because they see– well, I mean, also with the belief into, in artificial intelligence. It's not going to work, you know, this like propaganda, this manipulation in order to influence us.
[03:21:23]
But you really have to kind of stop us. You have to stop the the creative processes in the brain or like in the heart or wherever it sits in the soul, and… thus kind of disconnect us from this… source. But I don't see this source as a, you know, something that just goes through your body and you're basically like a… vehicle of… whatever is going on there. But it's more like that something that's coming out of the combination of the body and soul and everything else.
And I think it's really for the– really just, I mean, if you disconnect us and put us into likes this sort of Borg kind of mindset, I think then maybe it's going to work for them. But I think otherwise it's going to be… like creativity and… all that's going to be uncontrollable for them. That's what I think.
Wolfgang Wodarg, MD: [03:22:15]
Thank– I want to thank you very, very much for your… presentation. And I was following you very intensively all the time. And I think it's, I'm a little bit angry that we spend so much time on such a… such stupid ideas someone has. And I don't take Mr. Harari serious[ly] at all. He is just the guy who is making his show, and he's using pictures others need. He's well paid for it. But it has nothing to do with what we know already in science. And you spoke… about self-organization of life, you spoke about communication. You just could have told us something about Mr. Maturana, and we would have forgotten Mr. Harari.
So this… and it's so– if there is so much knowledge about self-organization of life in the meantime, I want to… show my favorite picture here. You see this? You see a village. I made a photo in Africa where and when I flew very low with an.. aeroplane. And you see how people are self-organizing. You see all those ways where they meet? They could meet anywhere, but they just decided, yes this will be our ways, there we meet, and so on.
So they have structures, the [software]. And you see the cells down in our brain who do similar things. And we– there is– here– I don't know whether you know Mr. Witzany from Austria.
Victoria Alexander, PhD:
Witzany? Günther?
Wolfgang Wodarg, MD:
Günther Witzany, yes. And he's speaking about biocommunication, very intense, he is very interested in this topic. And I wonder why he didn't show up in this time. I was expecting he would. I was expecting him to… interfere with this discussion, because he could tell us a lot. And it's about, he tells us about the RNA and the viruses. They organize us, because we meet them, and they shape our structures of immune system. They shape our possibilities of ourselves. They… made us that we don't lay eggs any more, and they… have, they do so many nice things with us that we develop. And it's such a stupid idea with such rough methods which are… trivial. The technology, their, the technology existing is trivial, because there's no feedback from technique. There's no feedback from death materials. There is feedback only in living, in… life.
Victoria Alexander, PhD:
Well, you know, they assume that there's some sort of feedback with, you know, new types of computing. But it doesn't have the kinds of feedback that biological systems have. And you know, I don't know, I… don't know whether or not these people in the World Economic Forum are, you know, just not aware of complex systems science at all. They mention it occasionally they mention it in very superficial ways, that's showing that they don't understand it. You know, we can have a couple of theories that… maybe they do understand, that the sort of technology that they're trying to develop is not possible. Maybe they do understand that, and their real goal is just to disable people with the technology, not augment them in any way.
Wolfgang Wodarg, MD:
Yeah.
Victoria Alexander, PhD:
It may be that some of them believe that this sort of thing is possible if we just had more data, if we just could do this massive experiment on billions of people to see what happens. And then based on the outcomes, we can develop better technology. Maybe they think, you know, they do that kind of massive experiment, they… might be able to make some progress and, you know, go farther with this kind of thing. Or… maybe not. I mean, that's just speculating about their motives. But… I think that they are dumb.
Wolfgang Wodarg, MD:
…what they really… can do is– look at this advertising. Look at what the investment they do on influencing us through the media, and we follow them. So they knew that we would follow. There are certain things that they know, and they… are successful with it. But when–
Victoria Alexander, PhD:
They've done a lot of research on how to control people through– and it's mainly through propaganda that– and, you know, you can't really fault us, because, you know, people really don't have access to good information. And all they're getting is false information.
So, you know, how… do they know to break out of that? And also, they've been traumatized to stay in with, you know, stay with this solution that they've been given, and it's very hard, you know. They, they're… suffering from post traumatic stress disorder, and it's very hard–
Wolfgang Wodarg, MD:
Look, there's this, Mr. Harari says we are, will be hackable people, and there's no democracy possible with hackable people. But we are… killable people xxx. They can kill us, and there's no democracy possible when they can kill us. It's a, that's a stupid idea. Using violence on people will limit their possibilities. And who's allowed to… make violence on people, shaping them as he wants or she wants is using _violence_. Because it's… just forgetting about dignity; it's forgetting that we are all equal but all different. And this is just…
forgetting this… primary, this basis of our coexistence as communicating human beings. We would have long gone if we wouldn't have been all different but all equal.
And all the times when we're not, where we're no longer all equal, people were suffering, people were killed, people were dying. No culture was possible; no, there was no development. It was poorest time, this darkest times of human beings. And Mr Harari is just– he's loving dark times, I think. He's just… it's stupid, what he says.
Victoria Alexander, PhD: [03:28:49]
Yeah, yeah, you know, they… are managing to sell this, though, to– there… are some intelligent people who… buy into this idea that–
Wolfgang Wodarg, MD:
Yes, it's about money, power and money.
Victoria Alexander, PhD:
–you can come up a way, you can come up with an algorithm for managing society that will be perfectly implemented, and it will create equitable… situations for everybody, you know. Some people believe that that's possible, that there is a rule, there is a law, there is a type of bureaucracy that would work, you know, for everyone. But we know, with– you know, self-organized intelligence really depends upon diversity of ideas, and having disagreements, and people thinking different things, and being able to communicate with each other and… work out things, and test different things.
Wolfgang Wodarg, MD:
And biological needs. And biological needs. And we start communicating if we feel some biological need.
Victoria Alexander, PhD:
So… one of the tasks that we have before us is to try to figure out how to, you know… unhypnotise– and propaganda is a form of hypnosis. It works with some of the same techniques, the technique of association. You know, associating things with emotional situations. And getting information into your brain when you're thinking about something else, when you're distracted, and the TV is on in the background, your brain is still processing that information, but it's not critically evaluating any of it. And it still–
Wolfgang Wodarg, MD:
Subliminal, yeah.
Victoria Alexander, PhD:
–subliminal. And it's still… having an effect. And your subconscious process– From a biosemiotic perspective, I would say that the subconscious processes information in a way that's very different from the way that we think of logical processing, where, you know, things are, have logical structures, or are logically related, you know. This is not equal to that, and so forth.
But the subconscious tends to associate things based on similarity in appearance or proximity to something else. The way you dream is evidence of… the kinds of things, you know. Something of a certain, you know, bright blue color will make you suddenly think of something else with a bright blue color. And those two things are now associated in your mind. You know, things that were in the context of the environment at the time, you know, like if… an animal smells something in the environment, and then is attacked, that animal will remember that smell.
Wolfgang Wodarg, MD:
Yes, because… we have this picture of the… good climate of nature, growing everywhere, of the healthy world of nature, and of… peace. And we have these pictures. And these, they use those pictures in Davos; they use it for their propaganda. They tell the people, "You will be happy owning nothing." And then they show nice meadows, and nice animals jumping through the forests and everything is– They use all this. They connect it. What they want to do is just business. They want to have the power over us. And they know how to _get_ it. And they pay a lot of [psychologists and sociologists], specialists, to give us those pictures to seduce us to stop thinking. This is what they do.
Victoria Alexander, PhD: [03:32:22]
I think we need a good course in propaganda, how it works, what are the methods that are used. And I've always advocated for, you know, better art, unders– you know, analyzing art in the schools. That– as I mentioned, that sort of fell out of practice. We don't… talk about how artists and writers use … artistic devices, poetic devices, to make meaning, you know, subliminally, you know, and imply different meanings. And if we… learn how to do that, understand how meaning is made in language, you know, the… meeting that's not there literally in the words, but the… meaning that's there in between the lines.
If we learn how to analyze that, we'll be less susceptible to propaganda, because we can recognize, "Oh, they're using those… methods of association." And I would say that the difference for me between propaganda is: it tries to hide the mechanisms that it's using. Art calls attention to them, to show you what meaning is being made here. And so we need to go back to art. You know, art is really the important thing–
Wolfgang Wodarg, MD:
Let's go….
Victoria Alexander, PhD:
We need more music, we need more stories. we need more poetry, about a different future that we can imagine together, you know, to help us, you know, see– You know, I'm writing a novel right now called "Covid-1984, the Musical". It's a political satire–
Wolfgang Wodarg, MD:
Forget about _1984_. Forget about _1984_. _Brave New World_ We're just fixed on these horror pictures all the time.
Victoria Alexander, PhD:
I'm… re-writing it so it ends happily. We …think of a way to get out of that. In that–
Wolfgang Wodarg, MD:
–different type of 2085 or something like that.
Viviane Fischer: [03:34:19]
But I think it has to be some sort of new kind of art, because I think, I mean, also, when you look at the artists now who have been silent through the whole, you know, this whole crisis. I mean, to some extent, I can't take, I mean a lot of people not seriously any more in these, you know, in these times. I mean, they could have had so many ways to influence people and kind of touch their hearts, and… you know, make them think. And we're just not there.
So I think it has to really– also, art has to be reinvented, and writing has to be be reinvented, to some extent, yeah.
I was wondering, you know, we have a question from the audience, but I think you kind of answered it already, to some extent. The question is: such people have thoughts that are clearly a danger to the present human kind. How can you stop them and counteract this? So one, a part of this would be like, to decipher the propaganda and kind of, while recognizing that
it's a propaganda tool, or like even trying to lure you into some sort of narrative. but how–
Wolfgang Wodarg, MD:
Switch off television. Switch off television.
Short answer.
Viviane Fischer:
But Wolfgang, that's not the only thing, because you're also influenced by maybe other people who are influenced by TV or like who have, I don't know, are stuck in… a bubble of their own. So I think there must be also other ways to kind of counteract this. Do you have any idea?
Victoria Alexander, PhD:
You know, art is the best way. And I think comedy is one of the… quickest ways to enter someone's– You know. they've got this filter bubble up, where they don't, they can't comprehend anything that's outside of, you know, what they believe. And if you go in with parity, kind of pretending to be, espouse the kinds of ideology that they do, they will listen to you, because it sounds familiar to them. And when you slowly morph it, so that it just doesn't make sense, until it makes them go, "Huh? What? Wait a minute."
So I work in satire. I work in parody. You know, I try to get into their… consciousness of where, meet them where they are, in their language, in their rhetoric, in their beliefs. and then slowly distort it, just slightly to give them that shock, and… maybe a sense of surprise, you know, laughter, comedy, that will help, you know.
Wolfgang Wodarg, MD:
And dissolve schools, you know. We don't need a centralized school system, which is in all Europe, making the same thing. It's just incredible. Just let the people where they live make their schools. They can self-organize, where they have intelligent children and they will… self-organize. We don't need such a state school system. It's horrible. We give the people money for the children, that the people have enough money that they can educate their children and self-organize. It's such an nonsense what we do.
And this is influenced– you know, I was in the education of teachers; I was working there doing health education for teachers. And I… found out they… are, all go to the same school. They learn what a teacher has to know to teach chi– what a nonsense! How poor we get when we do it like this.
Victoria Alexander, PhD:
I home-school my son. I'm a big advocate of… home-schooling and… decentralized schooling–
I want to mention too that I'm a lecturer with ipak-edu – i p a k hyphen edu, and I'll– I'm teaching a course on a response to transhumanism. And it is… for adults, it's… not a school for children. It's graduate-level courses in various topics, like immunology, vaccinology, the law of vaccines, many different courses that are kind of centering or addressing the issues that we're confronting right now.
And so, yeah, I do think, you know, our institutions have fallen. They've all fallen. And so we need to come up with alternatives. So ipak-edu is… one of those alternatives for adults.
Wolfgang Wodarg, MD: [03:38:36]
OK, let's start.
Viviane Fischer:
I just wanted to make one last remark. I think it's also, you know, transhumanism is also very, it's a very negative approach, you know. You are imperfect, and you have to be augmented. You have to do these kind of things. And I… think that it's important, you know, what shields you I guess maybe best from these whole propaganda thing, that's… being content, you know, content with who you are and whatever, what your body is like and what you, what the capacities that you haven't been gifted with. And I think these kind of– you know, if you, if you follow that kind of, that train of thought, then it's, or like feeling more, I think then that's… a very good protection against these kind of influences. Because then you're not like, you know, like a leaf in the wind, that, you know, someone presents you something.
"Oh yeah, I have to hop on that thing. And I have to get like, whatever, longer hair, or I have to do this, I don't know, I have to … whatever kind of improvement. I have to be able to run like 200 miles in a minute or so."
That's… all bullshit, I think.
Wolfgang Wodarg, MD:
I want to be like Mr. Harari.
Viviane Fischer:
Yeah, he exudes negativity.
Victoria Alexander, PhD:
We haven't… reached our human potential yet, you know. We still have a lot of things that… we can do, you know, without any kind of technology, if we, you know, if we made better use of our time. And, you know, we would… advance. And so we're not… taking advantage of what we have already.
Viviane Fischer: [03:40:13]
Yeah. Thanks ever so much. I think this was very inspiring, and it's, you know, also like maybe, to think about this, like when a new year, new year comes. And then we can make some choices, how we want to live our lives in… next year and the years to come.
Victoria Alexander, PhD: [03:40:31]
Yeah. I hope I've inspired people to, you know, like there… is an argument against this, you know. A lot of people can't articulate the argument against Harari. They just feel that it doesn't make sense or something. But… you can learn how to articulate the argument against them and… you know, and point out how ridiculous, how silly they are, really.
Wolfgang Wodarg, MD:
We were speaking about the free well of single persons. We can speak about the free will of communities next time.
Victoria Alexander, PhD:
Absolutely. Yeah. Yeah. Thanks very much. I really enjoyed it so much.
Viviane Fischer:
Thanks so much.
Wolfgang Wodarg, MD:
Thank you.
Victoria Alexander, PhD:
All right.
Viviane Fischer:
And have a… great new year.
Victoria Alexander, PhD:
Thank you. You too. Bye-bye.
Viviane Fischer:
Thanks so much. Bye.
Wolfgang Wodarg, MD:
Bye-bye.
Viviane Fischer: [03:41:17]
[in German] Yes, very interesting.
---